I recently received the following email from my youngest daughter:
Hi,
I decided that this year for Hanukkah I would write a blog and share it with you since you have been so sharing with your blogs this last year or so, and because you shared your journal with me.
Hope you enjoy it. Thank you for taking us around last weekend—it's a memory I will have forever.
My daughter signed the email with love and included a narrative she had written that shared her thoughts and feelings about the previous Sunday morning's "family history tour" of the house her 95-year-old grandmother (my mother) was brought up in, followed by a tour of my childhood homes.
Before I share her "share," I want to tell you a little bit about my daughter. She is super bright, a self-starter, and to me, her dad, she is a quiet, considerate, always-ready-to-help adult daughter who shares her personal life with me on a "need-to-know" basis. She is always there for me, and yet, until this email, hadn't shared many of her thoughts and feelings with me; now I know that old adage "Still waters run deep" applies to her. I'm so grateful for what she wrote.
* * *
My Best Holiday Gift
December 1, 2013
Today started off like any other Sunday when I'm at home in L.A. I wake up to the text from my father asking if today works to meet at Nate & Al's for breakfast, I respond with a "yes," he replies "wonderful." I get ready and inevitably am always 10 minutes late, no matter how early I get up. The breakfasts every week with my dad and grandma and a revolving door of family and special guests are not particularly fun or exciting, yet every week I find that it is the one thing I look forward to no matter what.
Nate & Al's has been a part of my life for all of my memories. Our first waitress there was Kaye. I can still remember her voice. There was a Music Plus store next door, where every week I would go and pick out a cassette single. It was at that store I remember wanting to buy the VHS copy of Madonna's "Justify My Love" video that was banned from MTV. My parents ultimately let me get it under the condition that they got to watch it first for approval; they watched, didn't approve, so I watched it the next weekend at my friend Brooke's house.
My grandmother enters Nate & Al's every week like the most famous actress the city has ever seen. She has never looked less than formal on Sunday morning. Decked out in pearls and all kinds of jewelry, sometimes a suit, sometimes a gorgeous sweater with a scarf, and always with her dark black Chanel glasses that never come off inside. Angela, the current hostess, greets her with a welcoming "Good morning, Mrs. Fogel," and holds her hand, helping her walk to the table.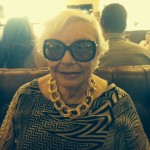 At 95, Grandmother Leah refuses to use a cane or walker. She will not hear anything of it—even a designer cane, even if it means being able to go out more. So the only time she goes out now is Sunday morning's breakfast or occasional doctors' visits and car rides during the week.
For years and years she has told me stories about her love of reading and how she lived across the street from the public library in South Pasadena and how much time she spent there as a child. The conversation at Sunday morning's breakfast is the same every week. I ask Grandma if she did anything fun during the week, what she watched on TV, or a story in the news about a celebrity whom she knows more about than I do.
She tells me stories about her parents and growing up in South Pasadena, about her siblings whom she loved but they either passed away or she lost touch with them. She tells me stories about meeting her husband, Irving, when she was a teenager at a dance; she attended with her sister and her sister saw him and liked him, but he only had eyes for Grandma. She's told me the story so many times about them rushing off to get married when she was so young and how he was the greatest, most good-looking man she'd ever seen. Lots and lots of stories, and what I realized a long time ago is that the facts in the story no longer matter after a certain amount of time. When everyone else is gone and you are the last one left, you hold the power to turn your history into anything you want it to be.
That's why Grandma has always been such a mystery in my life. Things I thought I knew growing up have changed throughout the years. As a child you look up to your grandmother as a cute, well-dressed woman who is always at holidays and speaks with a high voice. As an adult I see a woman who was dealt a horrible deck of cards in life and what she was able to do with those cards is a miracle. One hundred years ago her parents and family were persecuted and forced to leave their country on the other side of the world and she somehow ended up at 95 living in one of the most expensive mansions in one of the most exclusive and famous neighborhoods in the world; a wealthy woman who can have anything materialist she says she wants, surrounded by two sons, four grandchildren, and a great-grandson who adore her no matter how crazy she was in her younger years. Not only that, but she is everyone's favorite—she has fan clubs everywhere she goes. People can't get over that she is 95. There is nowhere she is more famous, though, than Nate & Al's.
My dad usually asks me the same set of questions every week, the same way I ask her the same questions. "How are your cats?" "Anything new in your career?" "How is your condo?" But this morning, after the regular slew of questions, a new one came up that caught me by surprise. "Do you have plans after breakfast?" I answered no, and my dad asked Grandma if she would be up for going to see her old house and neighborhood. Hesitantly, Grandma said ok and we made our exit, me holding Grandma's hand walking to the parking structure, only this time we were about to go on a ride I will never forget.
We all got in Dad's four-door, red Cadillac. As we started the drive out of Beverly Hills east towards Hollywood, Dad asked Grandma if she remembered her address. Without a doubt, she said "1017 Diamond Avenue." This from a 95-year-old woman who struggles with her memory recently. I could tell she was extremely nervous and anxious about going there, but at the same time the way she said the address made it seem like she lived there yesterday and was looking forward to seeing it.
We drove through West Hollywood, past my condo up Franklin, and through Hollywood to the 101—streets I have driven every day with restaurants and places I go to all the time, but in a car with my dad and grandma, which rarely happens, and seeing them point out buildings they used to own in their real estate careers, just blocks away from where I live. It really started to sink in that no matter how old I am getting, and no matter how well I think I know Los Angeles as my city and home, my dad and grandma before him have driven the same streets and had completely different experiences in their lives.
Not only were both of my parents born and raised in Los Angeles, but so was Grandma Leah. It really is mind-blowing to people that I am a third-generation Angelino. Meanwhile, I have hardly spent any time in Pasadena my whole life and I don't remember ever being in South Pasadena, where Grandmother grew up.
As we followed the GPS past a train passing by and onto Pasadena Avenue, Dad asked Grandma if she recognized anything and she said no. Finally we pulled up to a street that said "Diamond Ave" and she got very excited to see it. As if a 6-year-old girl were sitting next to me in the backseat of the car, I hear Grandma yelling and jumping up and down in her seat: "This is it! This is my block. Keep going, up, up a few more houses.There it is! 1017—that's my house." She had a huge smile on her face and it was as if we jumped back in time 90 years. There was the house that her father had built by hand and the library literally across the little one-way street, just like she had said it was for all these years.
Dad pulled over and parked. We each held Grandma's hand as we walked up to the house she grew up in. All 33 years of my life this little house with all these memories in this cute, quaint neighborhood sat just a 20-minute drive from where I live. The three of us stood in front and took a photo. She didn't have much interest in spending time outside the house so we walked across the street to the library. She told me again how much of her childhood she spent inside that library and how proud her mom was of her for being such a great student and reader. She told us stories about playing in the park outside of the library, and we stopped at an enormous tree and I asked her if she remembered that tree and she said yes but that it was a small tree when she lived there. Life happens, years pass by, roots grow deeper into the ground, and the strong survive.
We took a moment to sit on the bench outside the library,which was closed, so that Grandma could catch her breath. We got back in the car and drove to the end of the block and she said, "That's Mission Street! That's where our store was." We drove by the brick building and she pointed out the space next to a hip coffee shop. She has told me tons of stories about her fond memories of working in the furniture store and her father building furniture that was exquisite and that she says would have been very valuable today. She loved working in the store at a young age and making money.
There wasn't anything else to see that she remembered, so we decided to head back home. Then Dad asked if we wanted to see some of the homes he grew up in, and Grandma said it was ok. He took us all around streets between La Cienega and Crescent Heights between Pico and Venice showing us house after house that he had lived in. He had driven us by a few one time on the way home from the airport, but this was more than I had seen before. Dad's story is more engrained in my head than Grandma's, which was more of a mystery. My dad has told his story since I can remember, through his paintings, his writing, and everyday conversation. It was still really interesting to see all the places, though, and to hear Grandma talk about her ability to buy and sell houses during that time period as a single mom after her husband had died.
Dad told us a story that I don't remember hearing before about being dropped off for his first day of kindergarten.He pulled up to the school on Crescent Heights and said, "This is just how it was. Dad drove the car and parked it here, Mom stayed in the front seat of the car, and Dad walked me in to school and left."
Twenty years ago my dad made a painting titled 0-50 that documented his life until then. The painting was composed of photos of his family and friends he'd had since he was a child. The first 20 or so years of the painting were in black-and-white—under a cloud shadowed by the death of his father—and the painting transitioned into colors when he went between his first wife and my mom. In a way that part of his life and my Grandma's before that had always been black-and-white and one-dimensional in my mind, and today I was given the gift of seeing them in color for the first time.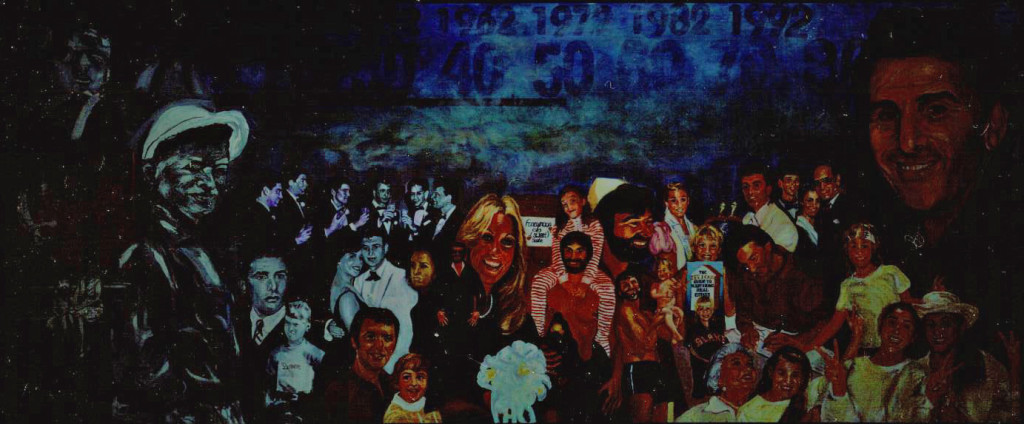 Today was a magical day for me. It brought to life years of stories that I had imagined my own version of. Even though things have changed in 90 years, so much has stayed the same. The houses are still there, the library and schools are still there. The streets are all the same names. Streets that, especially on the tour of Dad's childhood, I drive on all the time. I knew everything happened in L.A., but in my childhood mind that formed the visuals, it was all so long ago that it was a different world. But today I realized it wasn't so different. Times were different, but the places where things happened still remain. And of course I had already thought it, but Dad said it out loud, "Fifty years from now you're going to be driving around with your grandchildren showing them the Saint Pierre house that you grew up in." He also said how proud he was of himself to have been able to provide one home for us that we lived in from the time we were born until after college, which was so different from his childhood of moving every two years and having to take the toilet seat with him from house to house as the only thing permanent in his homes.
Tonight is the fifth night of Hanukkah. Thanksgiving was three nights ago. There was no gift that could compare to the gift I received today, being able to have my grandma show me the house she grew up in and have my dad take me around to all of the places he lived growing up. Part of me was sad that my sisters and brother weren't there today because I don't know if the opportunity will arise again. Days like today remind me why I show up every week for breakfast; you never know what's going to happen one day—who will show up, where you will go, or which week might be the last for any one of us.
Thank you, 1017 Diamond Avenue. Without you, there would be no me. It was really nice to meet you today.
19 Dec, 2013
Posted by Steve Fogel
6 Tags
0 Comments