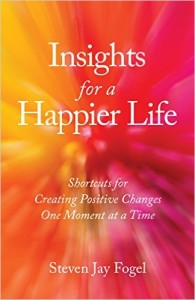 Insights for a Happier Life: Shortcuts for Creating Positive Changes One Moment at a Time
Experiencing greater happiness doesn't have to be complicated.
We can take small steps every day–shortcuts for creating positive changes in our lives–to improve our self-esteem, decrease stress, develop better relationships, and experience more joy and fulfillment.
Learn more >>
Read more reviews and testimonials CLICK HERE
Your Mind Is What Your Brain Does for a Living: Learn How to Make It Work for You
How does our thinking keep us in the past without our realizing it and prevent us from living a happier life? What can we do to let go of dysfunctional thinking and acting and learn to act in ways that lead to greater fulfillment?
In Your Mind Is What Your Brain Does for a Living, Steven J. Fogel answers these questions and gives us techniques to reprogram our mind and brain to help us achieve our personal and professional goals.
Learn more >>
Read more reviews and testimonials CLICK HERE