Last week when I was in New York, my girlfriend, Jo, and I visited four of my favorite art museums: the Metropolitan, the Museum of Modern Art, the Frick, and the Whitney. I've been painting oil portraits for 25 years, while Jo's art forms are culinary and tango, not visual art, and since this was her first time in New York City it was my pleasure to be her guide to the museums.
At the Metropolitan, I took her to my favorite rooms, featuring paintings by Renoir, Cezanne, Seurat, Van Gogh, Gaugin, and Picasso as well as other galleries devoted to paintings by medieval, Renaissance,and American painters. I couldn't stop myself from gushing about their different styles.
When I started studying painting, I came to understand that painters become celebrated because of what their art has to say and/or the technology they used in their work—their incredible skill as well as their choice of color, material, and tools. At the Metropolitan, I kept thinking about how truly privileged we were to have the opportunity to see rare and priceless works of art that have survived to show us how they embody these qualities and how they have all been pivotal to the evolution of the art form and to culture over the ages.
Because I was introducing Jo to New York's fantastic trove of art treasures, I also started to explain the "scene" at the level of how the art is acquired and presented, as opposed to the art itself. Each gallery has a wealthy person's name on it, as if it's the impressionists or the medieval or Renaissance painters sponsored by Mr. Wall Street of today or Mr. Robber Baron of the 1900s, who, through their generous donations, have become patron saints of art. But being a patron saint of art is not the whole story.
Henry Frick, for example, was said to be so ruthlessly immoral as CEO of Carnegie Steel Company and as a founder of U.S. Steel that he was known as "the most hated man in America." But his art museum, the Frick, which during Frick's life had been his home, not only displays works of art but is a piece of history in itself, allowing us to step into the opulence of how tycoons of his day lived.
As a Californian who lives in a house on a hill facing the Getty Center in Los Angeles, I see that museum'round the clock. Both it and the Getty Villa in Malibu are magnificent architectural statements in their own right in addition to their roles in housing art.Yet despite billionaire oilman J. Paul Getty being the richest American of his time and becoming one of today's patron saints of art, in his lifetime he was known to be so cheap that it was joked that he installed a payphone in his castle and insisted that his guests use it when they made a call.
As I pondered the notion of these museums and the men who have sponsored them, I started to think about the relationship between money and art. For centuries, artists had wealthy patrons and couldn't have concentrated on their art without the patrons' support. In modern times, patrons are more loosely organized but exist as collectors in a very active and organized marketplace. But there's also an active and organized marketplace for the works of dead artists who no longer receive any remuneration for their art.
During Van Gogh's life, he sold one painting for just a few dollars and was supported by his brother, Theo, and yet the robber barons of yesterday and the hedge-fund moguls of today are the ones letting the rest of us know of their taste and sophistication by acquiring his art for a large fortune. They pay hundreds of millions of dollars for the privilege of hanging his and other renowned artists' work in their mansions and corporate board rooms and on sponsoring you, Jo, me, and the rest of the world to see these treasures in museums, and in doing so, they end up receiving equal billing with the greatest artists of all time.
It reminds me of how Elvis Presley exploded onto the scene being billed as "Elvis Presley, presented by Colonel Tom Parker" (his manager). It's as if the hedge fund moguls and Colonel Tom Parker are taking credit for the work itself, and, in so doing, they become the ultimate P.T. Barnums of Ringling Brothers, Barnum and Bailey Circus, "producing" the art on display for us. This makes me wonder, who are the stars of the museum?
I served as the Chairman for three of my seven years on the California Arts Council, and part of my job was raising money for grants to the arts and art programs. I found that it was easy to get substantial philanthropic donations when they came with "naming rights" on buildings or galleries, but it was like pulling teeth to get a substantial donation when the money was to help fund local art education or after-school art projects.
To me the value of art is like the vitamin D we get from the sun: We don't notice it, but it enriches our soul and our well-being, and it is so important that we can't imagine living without it.So I appreciate the wealthy individuals who put art on display for us to share, regardless of their motives, and it's my fervent wish that as a society we begin investing more money in the education, including art education, of children, and in museums, than we currently do.
As a postscript to this blog, I walked on the beach this morning,looking out at the ocean and realizing that it's one of God's—if there is a God—natural canvases, and my heart was bursting with that view and the wonderful feeling of holding my girlfriend's hand, and I had the flash of thought:Enjoy it while you can, because soon there may be a digital advertisement floating in the sky above this seascape saying, "The Ocean—brought to you by Google."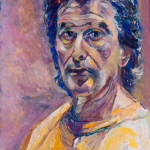 21 Nov, 2013
Posted by Steve Fogel
13 Tags
0 Comments